Close
Complete Stock List
Gone are the days you had to enter your stock names and their quantities manually. With our inventory management, you can do all of the above with better organization at a quicker pace. You can check the level of your inventory in each location in a single page and manage your decisions. We are here to help you never run out of your ingredients, whether it's basic ingredients to make a sandwich for your restaurant, new shampoo for pets in your pet grooming store or simply a new pillowcase for a room in your hotel.
Real-Time Inventory Level
The amount of stock you use will be subtracted from the total amount of that specific product. The system even counts the last pinch of salt you use. That is how we keep your inventory level exact at all times. Thanks to this feature, our users never run out of their necessary ingredients and their bestselling. There exist options to either manage your stock per item or per ingredient.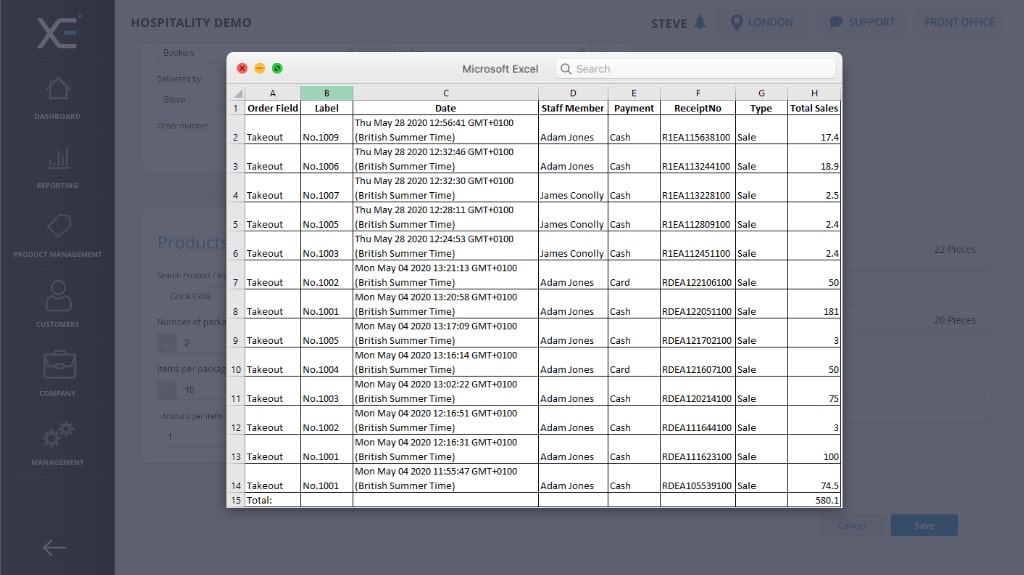 Data Export
Using data elsewhere has never been easier with our data export option. Simply export your chosen data and take them wherever you need; whether you want to present your hospitality business to investors or for your minor analysis.
Customize your Receipts
Keeping things closer to your customers' taste is important in the world of hospitality and you need to show your brand whenever and wherever possible. Customize your receipts to make them more interesting and closer to your personal taste. You can even save your desired templates and use them every time you want. Unlimited customized receipts can be created with just a few clicks!
Add logo images, columns, lines, text, barcode, order list, receipt number and date, company's details (including name, email, phone, vat number, and address), device name, name or number of the employee who served that table, quantity of ordered items, total price, total tax price, and more.
Add logo images, columns, lines, text, barcode, order list, receipt number and date, company's details (including name, email, phone, vat number, and address), device name, name or number of the employee who served that table, quantity of ordered items, total price, total tax price, and more.
Add logo images, columns, lines, text, barcode, order list, receipt number and date, company's details (including name, email, phone, vat number, and address), device name, name or number of the employee who served that table, quantity of ordered items, total price, total tax price, and more.
The width of the whole receipt can be changed to either 80mm or 58mm based on your device requirements.
The width of the whole receipt can be changed to either 80mm or 58mm based on your device requirements.
Add descriptions to receipts and write down if a change is needed in the ingredients your customer ordered.
Return and Refund
A customer wants to return an item they have ordered previously and you need to return or refund that item or the whole order? An option is provided to refund the whole purchase or to refund a specific item from the receipt. The refund process can be either by cash, cheque, card, on-account, bank transfer, or voucher.
Price
Add product price in the menu effortlessly and edit the price whenever necessary.
Get rid of calculating the price change based on markup and taxes. Just enter your desired markup and tax rate and we will do the rest. The tax rate for example will be shown in the customer's receipt and they will be informed how much the actual meal costs.
You can also activate custom product price based on sale type while you enter the product price.
Smart Notification System
We will notify your chosen user when an ingredient becomes less than a certain amount (which again you can choose the threshold), then the necessary steps will be taken.
Adjustable Floor Plan
Status of the tables
Frustrated about not knowing which tables are free and which are not? Do you want to know the exact time of an in-use table? XEPOS is here with a floor plan that shows all the information you need. Get the exact covers of an in-use table.
Bring colour into your solution
With the use of colors, you can see if a table is free or busy and customers will be directed toward the right tables. Your staff can also get to the busy tables faster and customer experience enhances. XEPOS' color codes help staff know the table's situation in a quick glance: Blue: the table is empty; green: customers have used the table for less than an hour; yellow: less than 2 hours and more than 1 hours have passed since the occupation of the table; red: more than two hours have passed and the customers are still using that table.
Easy Edit
Quickly do the necessary adjustments. Add or remove tables with a few quick
clicks. Drag and drop tables whenever you make a change in your cafe, restaurant of the lobby of the hotel.
Auto-Update
Changes you make to the floorplan updates automatically as you save them and the related users can see these changes instantly.
Access Management
There is no need for every user to see everything! Give specific access to a specific staff or define a group and give them the access they need based on their role. These access types vary based on your hospitality business.
Easier clock-in and clock-out
Make it easier for everyone to enter their working hours, breaks, etc. Creating a user in the software for your staff, helps them and you to work better and more efficiently. Opening and closing shift will be done in just a few seconds.
Staff Report
It's the end of the day and you are closing your restaurant, constantly thinking about that hard-working staff. Want to show your appreciation? Use our staff report and see how much time they spent working to find your staff-of-the-month!
Keeping logs on the paper is hard, especially if your company is a busy one. Using XEPOS's Staff Report system helps you check employees' working hours without any mistakes and misunderstanding.
Quick Learning
XEPOS' user friendly interface helps your staff learn how to work around the system with less effort.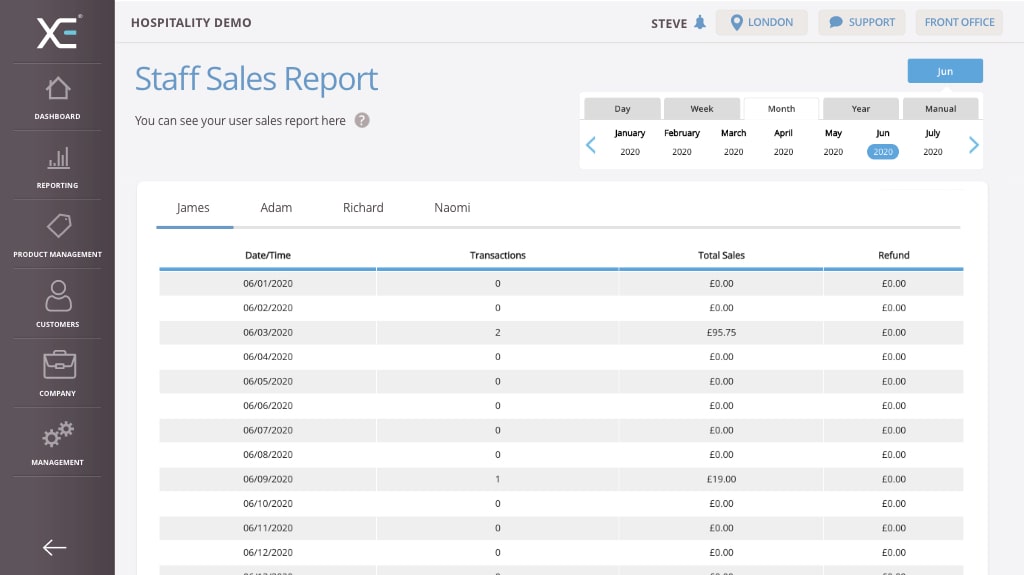 Find your Staff Member of the Month
Analyze staff's performance and find your best staff to give reward to and encourage others to work better. See the items sold by staff at the end of the day and decide who should be rewarded.
Find your "Busiest Time" or 'Rush Hour' and plan accordingly
See the number of sales per hour to find your rush hour and make sure you staff are around to serve the customers.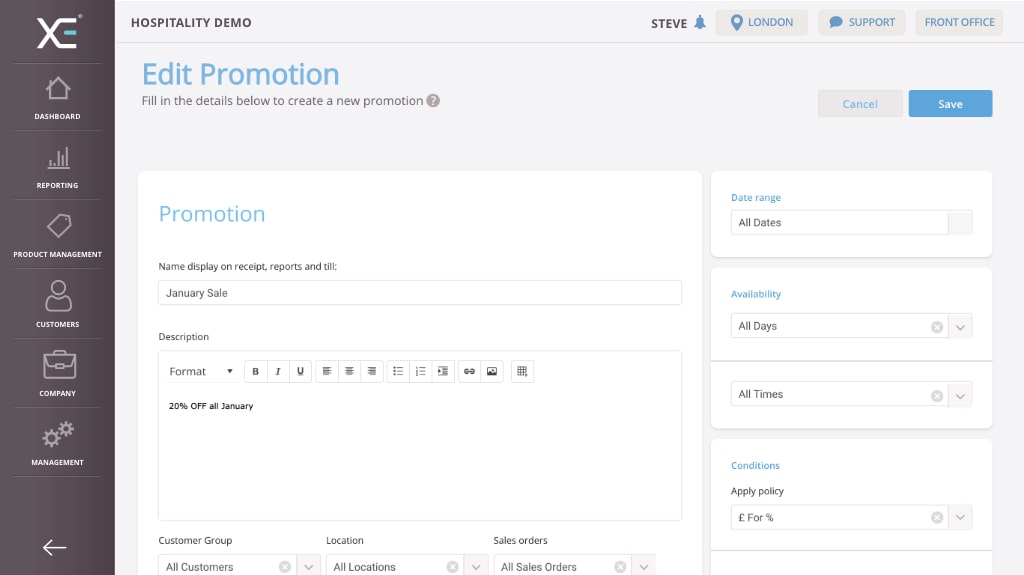 Promotion and Discount
Let your loyal customers know how much you appreciate their devotion. Reward loyal customers with special discounts to encourage them to come back.
Promotions tailored to your needs
Different options are available to suit your needs and of course, your customers' need. Mix and match these promotions to entice up your hospitality business and attract a wider range of customers.
Three options are provided which you can use: buy X and get Y, buy Y and get $ dollars off, and buy $ dollars for % percent off. Choose the one most suitable for you and encourage your customers to buy more.
Create happy hours, composite (gift basket and combo packs and any meal deals of your choice), and even buy x get y offers and spice up your sale rate. Add discount to specific items or a whole package and run them for specific times or specific purchases.
Promotions can be set based on location, customer group or the sale order that is taking place.
Set specific date and time to start and end promotions.
Find the time that works for you
Create Happy Hours and attract people to your business. Experiment with different times to run promotions and choose the best one that engages more customers. A date can be selected to activate discounts.
Specify which location and which group of customers you want your promotion to be available to. If a meal is more popular in a location, put it on sale and sell more in a day or two.
Know your customers
Knowing your buyers would be beneficial to put them in special groups with similar customers. Creating these groups will be helpful when giving discounts and promotions based on their preference to attract them toward your services. Customize your desired promotion and make it closer to your customers taste.
Different locations, Different Promotions
Don't settle if only one location is profitable! Running promotions for different locations at different times, attracts customers toward that place! Let them know you have different locations and promotions. Discounts and promotions can be set for specific location.
Your staff are your most loyal customers!
Your staff will be more willing to work if you give them employee discount!
Customer Management
Customer ID
Create customer profiles, add their number, postal address, email address and even enter their balance to handle your offers better.
Categorize your Customers
Specify a group for your customers and categorize them based on their interest to know which marketing email you have to send them.
Customer Purchase History
See how much a customer has spent and when was their last order.
Visiting Frequency
Check your customer's last visit in the system and encourage them to come back and visit more often.
Quick Reservation
Reserve tables for your customers and don't let them down in your rush hours.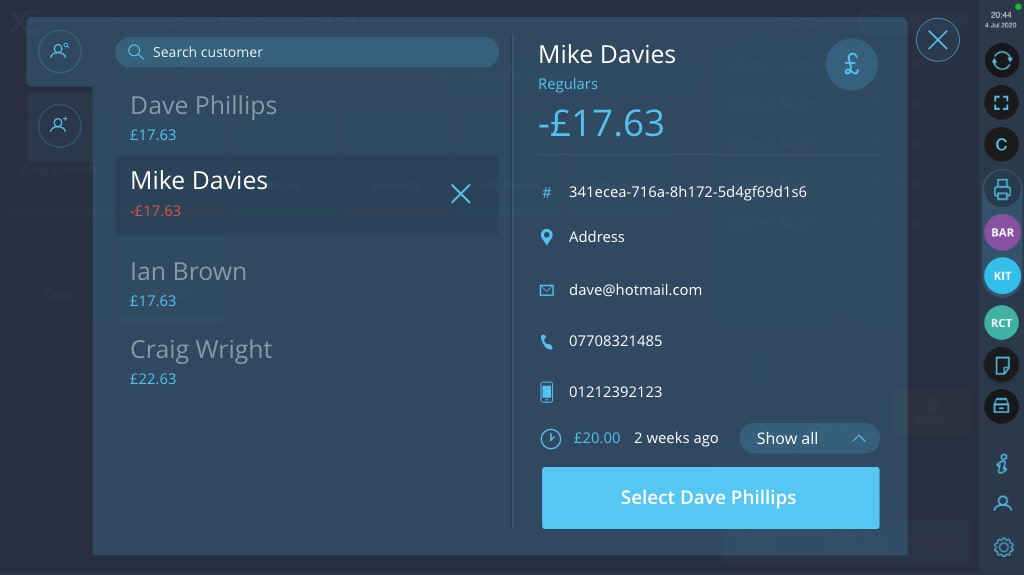 Customer Display
Your customers trust you more when they have the opportunity to see the total sum of their purchase right in the screen in front of them. Our customer display is there to show them that number and gain their trust. Each and every cup of coffee they have ordered
or other meals, plus the services they received is shown on this display.
Take Loyalty to the Next Level
Intrigue customers to visit more often by the means of points and stamps. Turn the amount of money they spent to points and the number of their orders to stamps. You can even set the maximum amount of stamps each customer is allowed to use in a 24-hour period. The amount of money they spent can also be seen which again is beneficial in helping you find your most loyal customer.
Caller-ID Integration
Your phone line integrates with XEPOS' point of sale system and eliminates the time needed to dig up customer's information on the system. For example, when a customer calls to order some food, their information appears on the screen so you don't have to enter their data once again to know where the food should be sent!
Better preparation
Caller-ID integration helps your staff know which customer is on the line and they can prepare before answering their call.
Keep Them Satisfied
If your customer is asking for the receipt, you have the option to offer it via Email. By doing so, you create an email list as a database for your email marketing as well.
Get it real
Speed up your business with the help of real time ordering. The kitchen will be able to see orders as you ask customers and enter their orders. An integrated printer, prints
orders in the kitchen or bar and makes the transfer process faster. Plus, it will make
communication easier as well and keeps unnecessary movements to a minimum.
Avoid mistakes and misunderstandings
Mistakes will be less when the orders are transferred via a cloud-based system to the
kitchen.
Assign Orders to Tables
Assigning orders to tables help staff know where to go without any confusion and they will know exactly which table they should serve that specific food to.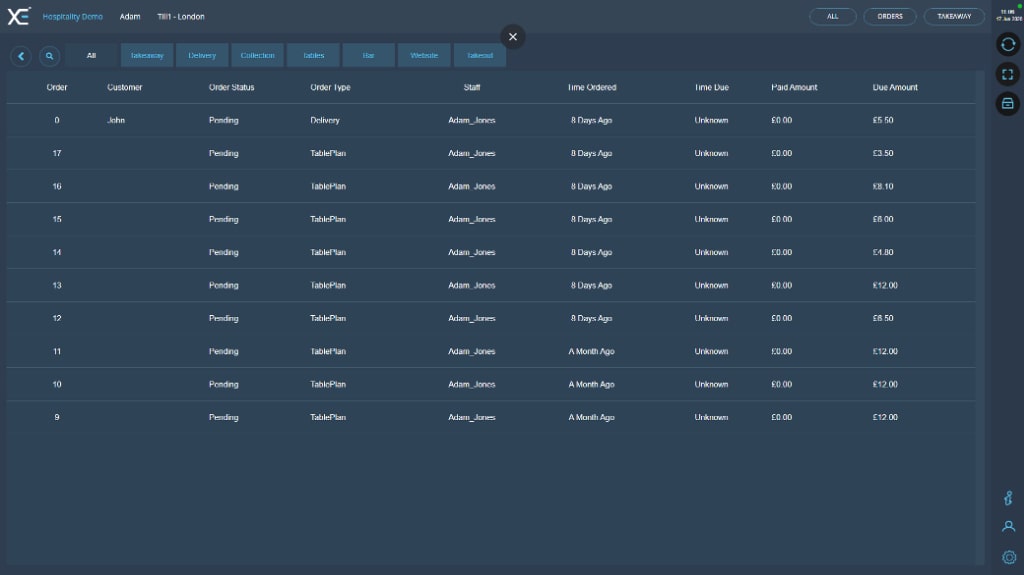 Open Orders
You can always check out the open orders and get a piece of detailed information about them; e.g.: What is their order number, when was their ordering time, how much they
have to pay, their order type, etc.
Food Modification
Want customers to come back? Keep them satisfied! Customers love it when you pay attention to the modifications they want. Bring the meals exactly as they ordered and
see the smile on their face! Add notes to orders so the kitchen knows if there are certain restriction or modification needed while preparing food for a specific order.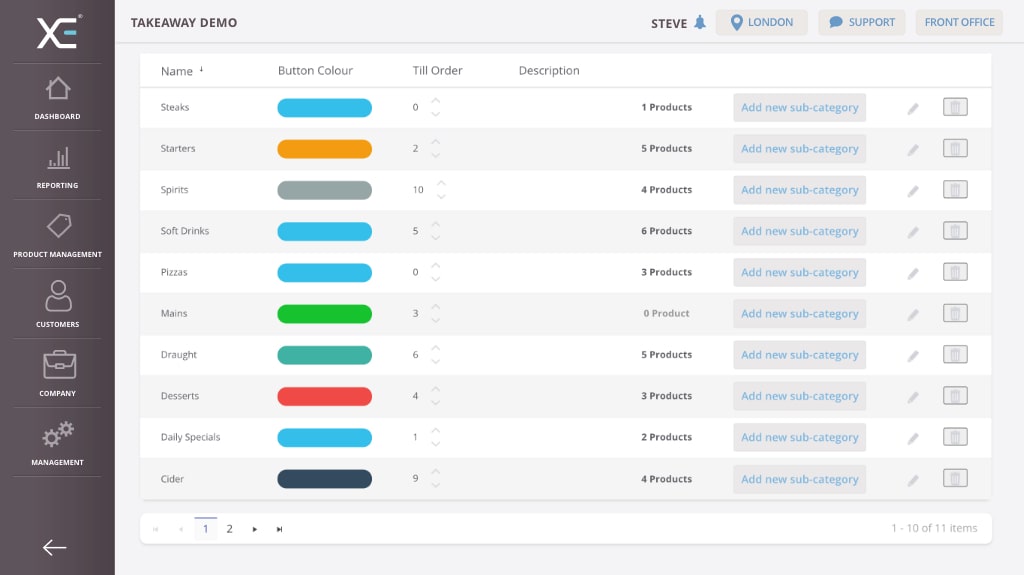 Customise the Menu
Personalise the menu
Show people how much you care about your name and your business' interest. Easily
create your desired menu by adding products under categories and subcategories. You can choose to put each product under which category. Plus, you can add images to each category so that your users find it faster and save time. Don't forget to add pictures to your products and make them more visually interesting.
Pop-up notes are there to pop up!
Don't worry about forgetting small details about your products and services. Insert pop- up notes to dishes so that when they are selected in the menu, it appears in front of
your staff's eyes to inform customers if necessary.
Payment
Flexibility
Our flexible billing helps you accept almost any payment form and your customers can pay with ease of mind. Mastercard, Visa or simply by cash… Whatever your customer decides! Let them enjoy their meal and pay without worry!
Split and Merge the Bill
Splitting the bill between seats has never been easier thanks to our "Split Bill" option. Choose which items a specific person wants to pay for and keep them off their order list. Different people at the same table or just a group of friends in need of splitting the bills to pay their share… This option can do the job for you. Plus, you can merge the bill from different seats into one and save time if needed.
Order Transfer
Need to transfer orders from one table to another? You are just a few simple clicks away.
Card terminals are there for your business
Portable, Countertop and Mobile card terminals can match XEPOS' solution. Choose the one that suits your business and enjoy the speed of accepting payments.
See how much you earned each day
When closing the register at the end of the day, you can see how much you have gained by serving the customers. Check out how much you have in your till each time you are opening or closing your register.
Avoid mistakes with the help of smart communication
Our XEPOS system transfers the amount of money your customer should pay to the card terminal and eliminates errors by avoiding manual entering of the numbers.
Working Hour Reports
Get a report on working hours of each staff. You can choose the time period and make better decisions about your staff. If a specific time of the day is your restaurant's rush hour, knowing which hours works best for your employees help you manage those peak hours better and be more flexible toward your staff's working hour.
Sale Report and History
Get an overview of your company's sale throughout the year, month, week, day, etc.
At the end of the day you can see sales by staffs, sales by products, and even sales by category!
Find your popular items on the menu and put it in the spotlight! Find out which products are selling better and always keep some extra in your inventory.
Need detailed information about a sale? Just enter the receipt number and see the magic!
Stock Report
Detailed reports can help you manage your inventory better. See the remaining quantity and decide about each item's threshold to be in control of the reorder point.
Sell Based on Product Report
Product sell reports can be based on their profitability, taxes and discounts. Choose the one that suits your needs the most and use the information with your consultant to get more detailed advice about the advances of your hospitality business.
End of Day Reports
At the end of the day when you close the register, you can see a report showing you every detail you may think of about how your day was. How many pizzas have been sold, how many customers are taken care of, which rooms of your hotel became occupied and much more. Sales based on users, based on products, based on categories, etc. Even Wet/Dry reports are available for you to see. Analyzing these reports helps many aspects of your business. For instance, you will be able to identify the estimated time of your restaurant's rush hour.
Add Locations Quickly
Adding a new location to XEPOS' software can be done with no effort. You can manage all locations with an integrated system which makes the decision making about your management strategy much easier.
Currency Preferences
No matter where your other branches are located, you can always define different currencies for different locations. Geographical distance will become just a number and you will be able to accept payment from different currencies.
Stock Movement
Short on something in one location? No big deal! Log into the system and transfer that item in your preferred quantity to that location. Add a reason to your movement so that the ones concerned with this matter, know why you are transferring that item. You can also see the recent movements in the system and have everything under control.
Reports Based on Locations
Have all your locations under control in the system and handle each and every location in one place.
Keep Data when Transferring Devices
Our Cloud-Based system helps you keep your information safe when you need to transfer devices between different locations, whether temporarily or permanently.
Cloud-Based System
Edit whatever you need whenever you want! Everything is at your fingertips, no matter where you are. That is the power of cloud in XEPOS' Point of Sale system for your hospitality business.
Have everything on the go! Access everything in your laptop or PC while you are away from your usual workplace. With our system, you will never miss any details about your work.
Don't worry if your internet connection is out. You can still use the software in offline mode and sell food to your customers or accept customers. Your data will be synced once the connection becomes available.
Updates are done automatically and offer you a better experience.
Our Cloud system helps you not only manage your business from distance, but also access everything you have even when your system is stolen!
If safety matters to you, cloud is there and keeps your data safe at all times.
Phone support
Have problems regarding a specific option in the system or simply need some advice about improving your experience? Give us a call and we will answer all your questions.
Chat with an expert
More comfortable talking in chat rooms? We have experts there as well! Chat with our support team to solve the problem you are facing.
Send us an E-Mail
If talking on the phone is just not your thing, and you don't have enough time to talk, just drop us an email and we will quickly reply with the answer you are looking for.
We know it's you!
Don't worry about the difficulties of introducing yourself and your business each time you call! We keep your information to make your experience better. So, when you call, we know it's you and will start helping you out from the moment you call.
We help you keep up
Learn to use XEPOS' point of sale solution with the help of our specialists. Since our system is user-friendly, you won't have difficult time learning your way around the system and your staff can quickly learn how to use the system as well.
Easy Setup
Easy setup and quick training are just some of the features of our pos system which helps you save time!
FAQ
You can always check our FAQ page to find the answer to your questions.
Connect with us on Social Media
Wherever you are, we are there for you! Choose the channel you are comfortable with and we will be there to guide you and show you the features of our Point of Sale Solution and many useful and educational contents that will help you with your business!
Try XEPOS Risk Free!!
We have spent the last 6 years working with other businesses in your sector. We understand every painpoint,
that's why we have created the perfect epos system specificaly for your business, with every feature you will ever need.
Get in Touch