Close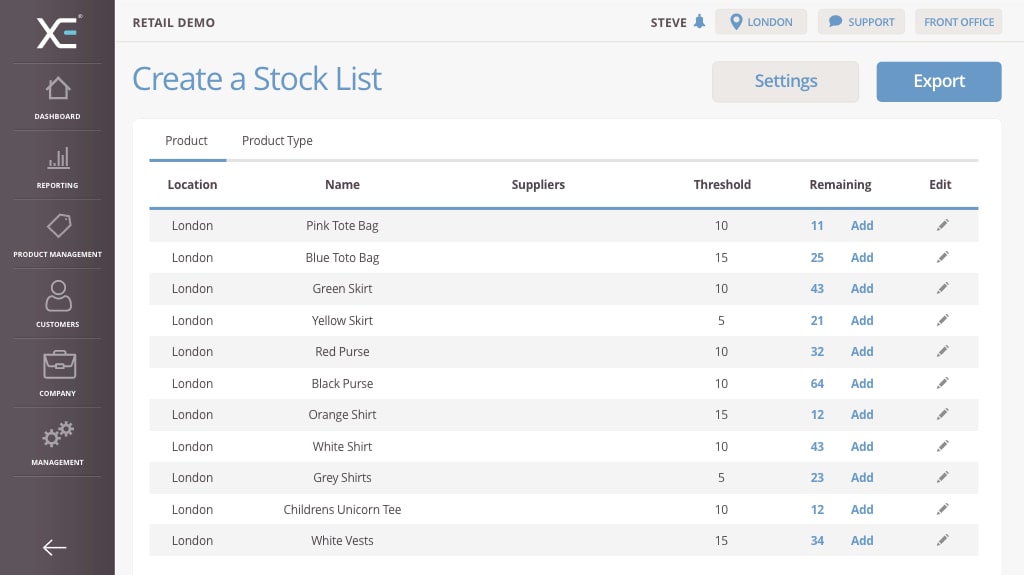 Create a Stock List
Create a complete list of your stock in the blink of an eye. Easily scan a products' barcode or enter the data manually. You also get the chance to edit each item's information whenever you want.
Pricing
Pricing products has never been easier while using the XEPOS epos system. Avoid time-consuming ways of entering prices and with just a few simple clicks, see your desired price in the system for each specific product.
Scan Painlessly
When it comes to retail businesses, we know the amount of stock can be overwhelming, especially when new orders arrive and lists need to be updated. By using our epos system, it'll save you tons of time when data needs to be entered into the system. Even if you don't have enough time, you can just simply use the barcode scanner to scan items and create an inventory as soon or quickly as you want.
Promotion and Discount
Run promotion and discount at different periods in time for different products. You can also easily run and manage these promotions and discounts for multiple locations.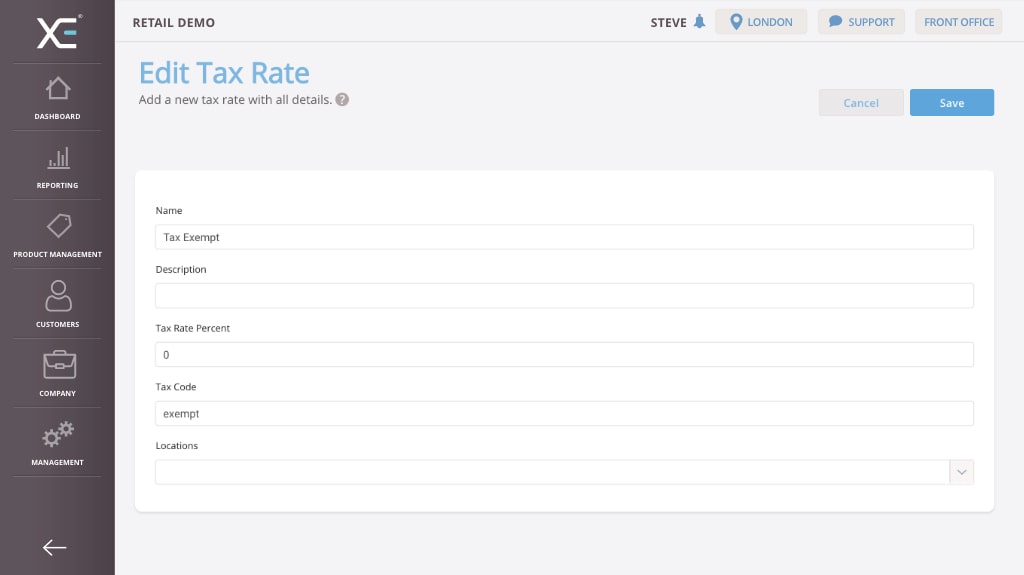 Customizable Tax Rate
We know calculations might be difficult for some, especially when it comes to confusing tax calculations. However our smart epos system automatically calculates the numbers with and without tax rate to help avoid any human error. All you have to do is define tax rates for the product and we will do the calculations  for you!
Live Monitoring
Make sure that there are always enough products in the store for your customers. With live monitoring you can easily see your stock level in real-time in the back office. Our XEPOS epos system can count everything down to its last drop and help you to never miss a sale!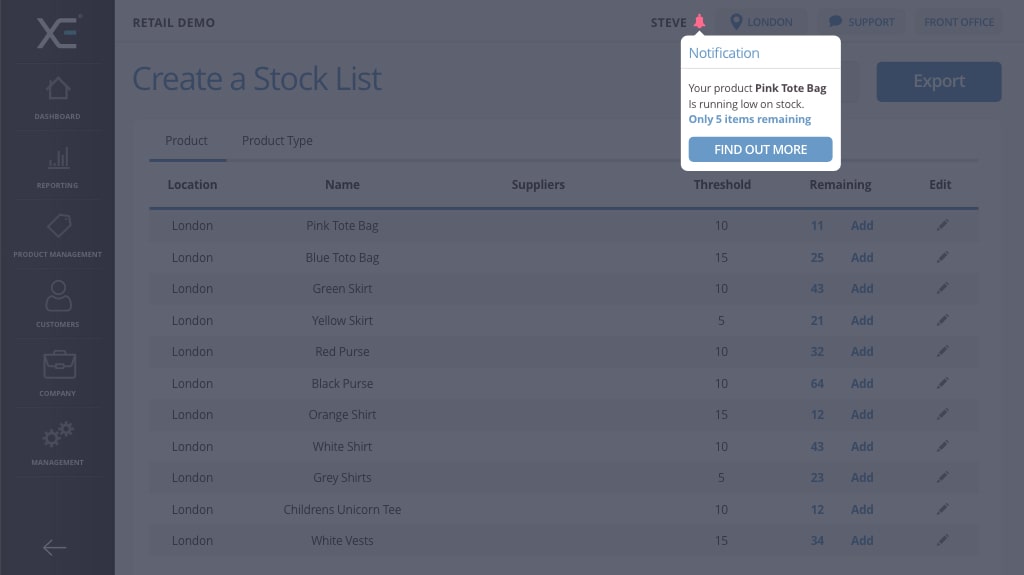 Smart Notification System
Too busy that you forgot the ordering time? No problem! Define a threshold and user for your epos system and receive a notification when it's time to order!
Stock Transfer
Whether you're short on something in a specific location, or changing items between multiple locations to increase stock diversity, we can help you transfer instantly.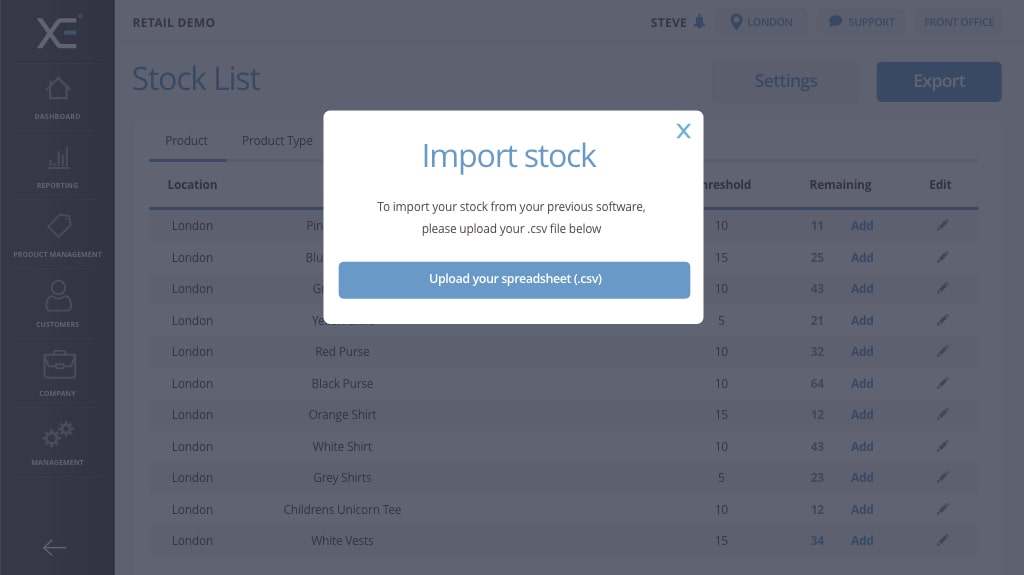 Import Effortlessly
If you're changing your old pos system or want to import  data from catalogues, there's an option for bulk item transfer. You can now import products in large quantities with CSV files.
Product Variation
Define size, colour and different categories for each and every product to show their differences and make the customer's decision-making experience easier.
Unlimited Categories and Subcategories
Create different categories and subcategories to make the navigation easier for your staff. You can even define different colours for different categories to make them more aesthetic.
Define Suppliers
Having a supplier database can prove beneficial when it comes to ordering new products. Just enter their name, description and address in the system to always have the information in times of need.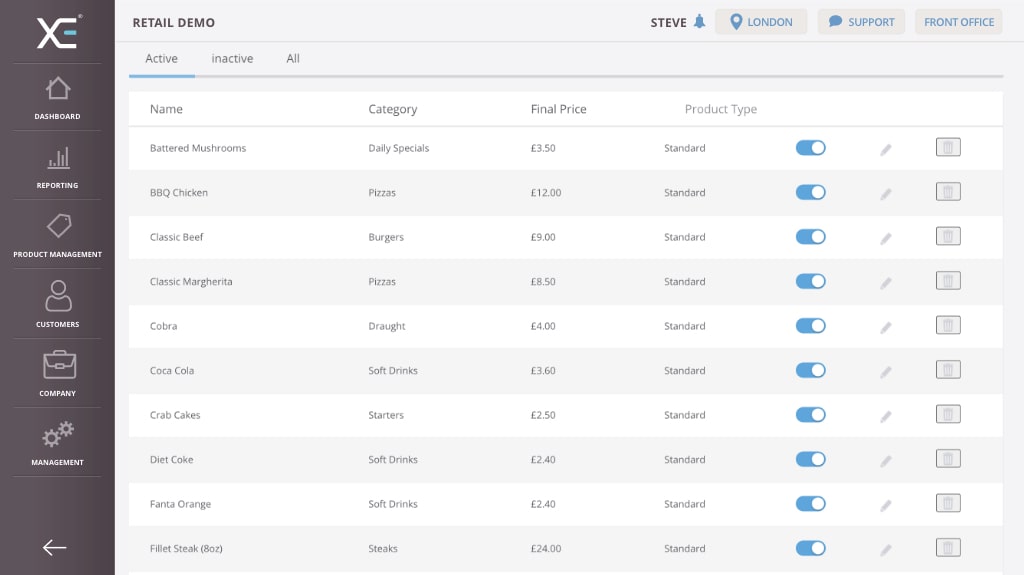 Neat Organization
Organize your products based on different parameters like supplier's name, SKU, barcode, category, etc. to sort them accordingly when necessary.
Trouble-Free Ordering
Ordering won't be a challenge anymore when you have an XEPOS epos system. Easily place orders and when do arrive, add them to the system in a flash.
Detailed Reporting
Make well-informed decisions when it comes to buying and selling strategies as we provide detailed stock reports and sales reports showing your top-selling products. Then you can decide where to invest more and which products should be removed from the shelves.
Various Payment Types
Let the customers pay with their desired credit or debit card. Using our epos system can help you manage these variations effortlessly. You can also provide them with different ways to pay like using cash, on-account balance, etc.
Spice up your business with Gift Cards
Gift cards are an amazing way to increase customer volumes and make them encourage others to buy from you. They can use their gift cards in-store and enjoy feeling appreciated for their loyalty to your retail store.
Split the bill
Let group buyers use the advantages of the split payment. Split the bill for them to ease the payment process.
Integrated Payment
Our integrated payment system can help you accept payment seamlessly. Use XEPAY payment solution to create a flawless experience for both your staff and customers.
Stay connected to your current bank
It's just a matter of comfort! We can help you connect to various merchant service providers of your own choosing and accept payments the way you are most comfortable with.
Sales Report
Easily see the number of sales, how much profit you've made, transactions and even the time of each transaction! You can also find out the payment method each customer used to pay.
Exporting this data is easy and the parameters can be chosen by the user to increase the report's readability.
Customer Report
Check out your customer database and the related data! See their total account balance, points and stamps and even the total amount they've spent! The time of their last order will also be visible in the customer report to understand how often a customer visits your store. Then try our loyalty programs to bring them back into your store. Plus, you have the option to find customers by their name or group without wasting any valuable time.
Stock Report
Monitor your stock level in real-time! Know how much you currently have in each location to make better decisions about the next order and set a threshold for every product to receive a reminder for orders.
User Sales Report
Wonder when your store's rush hour is? See your total sales for each and every hour of the day effortlessly. If you wish to see a specific user's sales report, this section can help generate that based on different users or simply show you the performance of all the users all in one.
Sales per Product Report
This report will show you how much you've sold of a specific product. Analysing this report can be beneficial for finding the best sellers and understanding how much profit you've made by selling different products will be useful for ordering plans. Plus, it helps you understand the trends in your target market making it easier to choose your stock more effectively.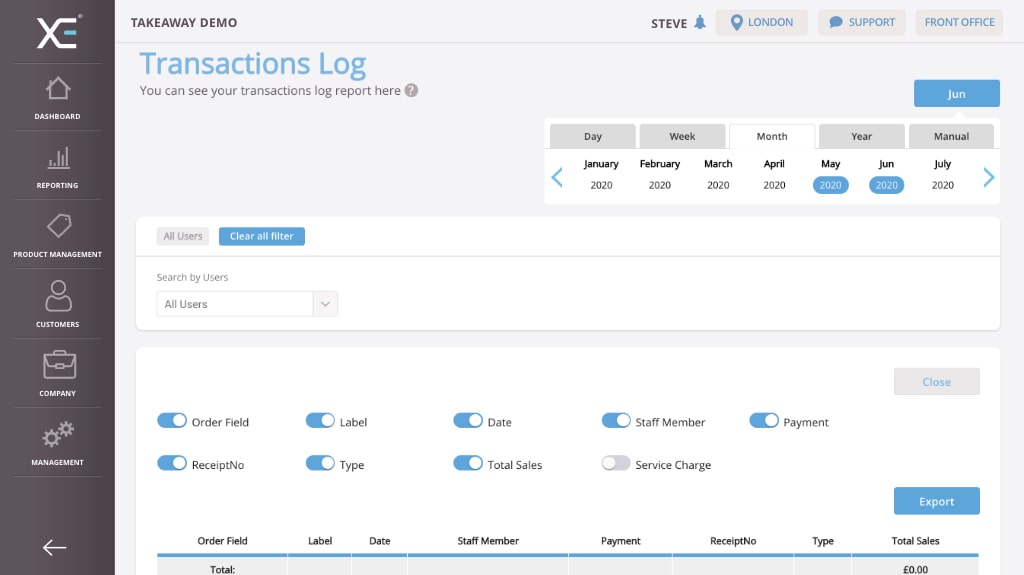 Transaction Log
Transaction log reports are there to show you the details related to each transaction; including date, receipt number, type, service charge, payment, etc.
Register Closure Reports
Your register report helps you know about the opening and closing time of the register, name of the person who opened and closed the device, opening float and other useful information about the register. That's how you can monitor the cash flow and prevent fraud.
Time Attendance Report
Having insights about your staff is crucial as they are the ones who help you run your business towards success and without their hard work, you will never reach the goal you've set for the business. XEPOS epos systems provide useful reports for staff attendance time, how much time they've spent on their breaks and even total salary for each staff member. Use this report to find your staff-of-the-month and show that person that hard work pays off!
Export Options
Need to use reports for meetings or have them by your side elsewhere? Easily export them to use anywhere you need them.
Access Reports from Anywhere
Thanks to XEPOS cloud-based epos system, you can access reports anywhere around the world without having to have the till by your side all the time. Just use a system which is connected to the internet and you're good to go!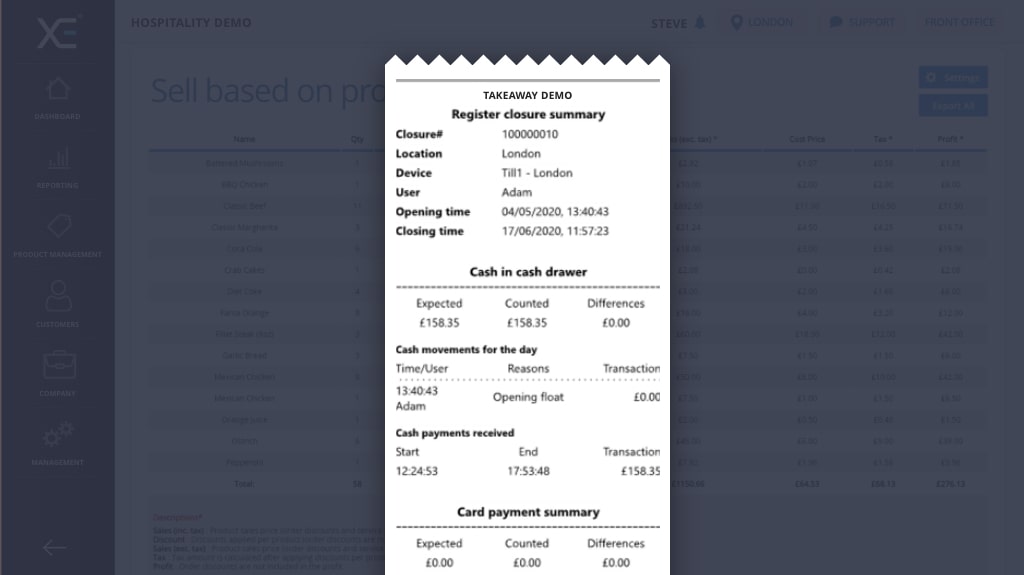 End of the Day Report
Eager to know how the work of each day affects the business? Use the end of the day report to track the store's performance at the end of the day and find out how much profit you've made.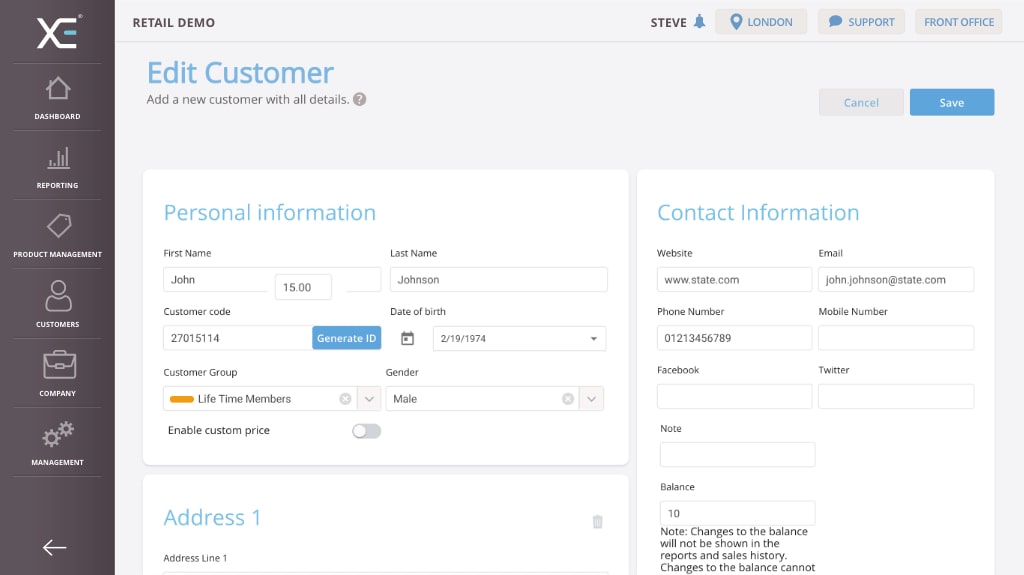 Customer Databases
Add customers to the system with just a few simple clicks. Different fields like name, address, website, email, etc. have been provided for you to have detailed information about the customers and get to know them deeply to learn what gets their attention and which products attract them toward your store.
Purchase History
Increase the number of sales by encouraging customers to visit more often. Check out  your customer's last visit and their purchase history in the back office.
Brilliant Loyalty Program
Loyalty programs not only make the customers feel appreciated for their visits but also increases the number of sales for your store! This win-win program can change the way a customer looks at your business and also turn one-timers into loyal customers who think of your store as their go-to when they need to buy something!
Gift Cards are Your Customers' New Buddy
Enabling gift cards in the epos system can be done quickly. They will attract more customers and provide a chance for you to be introduced to others. You can also monitor all the gift cards that you've sold and how much balance is left in their card.
Points and Stamps
Issuing store credit to customers is a brilliant way to create repeat sales! Using XEPOS loyalty program will give you the opportunity to nourish your business and increase its profit.
Promotions and Discounts
Make your customers aware of any promotions and discounts that you are offering! There are lots of options for customizing this feature to make it more personalised and closer to the customers' taste.
Create Groups
Categorize your customers better by putting them into different groups. These groups can be based on their specific needs, shopping habits, etc. Creating customer groups would also be beneficial for loyalty programs and running discounts and promotions.
Add New Customers with a few Clicks
Adding a new customer to your point of sale is easy and effortless. Add new customers in the epos system even during the checkout process! Then you can use this information for marketing purposes and also keep the store's logs.
Import Existing Customer Databases
If you already have a list of customers, you can import it to the epos system to avoid adding them manually. No tonly does this save time, but it's incredibly simple and easy to do.
Export the list of Customers
If you're using an email marketing platform, there's no need to manually enter your customers! All you need to do is to export the customers' list from the epos system directly to your email marketing platform.
Who Are Your Most Loyal Customers?
Find out your most loyal customers with the help of XEPOS. We help you understand which customers are spending more and how much store credit they have.
Reward Programs
Give customers rewards for their loyalty and purchases to encourage them further  to spend at your retail store!
Email Marketing Integration
Send customized emails to your customers based on their groups, shopping habits, etc. and encourage them to spend more in your retail store. You can inform them about new products, let them know about current discount and campaigns they wouldn't want to miss out on, as well as lots of other ways to encourage them to come back.
Increase Your Income with FOMO
Let your customers know about the opportunities they're missing out on. That's how they'll become more willing to buy instantly from your retail store.
User Access Control
Keep unnecessary data out of reach by controlling staff access based on their role at your retail store. Data safety is just one of the many advantages you get when giving different access levels to your employees.
Easily Submit Time Attendance
Your staff can easily submit their time attendance inside the epos system where you can track their working hours, breaks, sick leaves etc. with ease.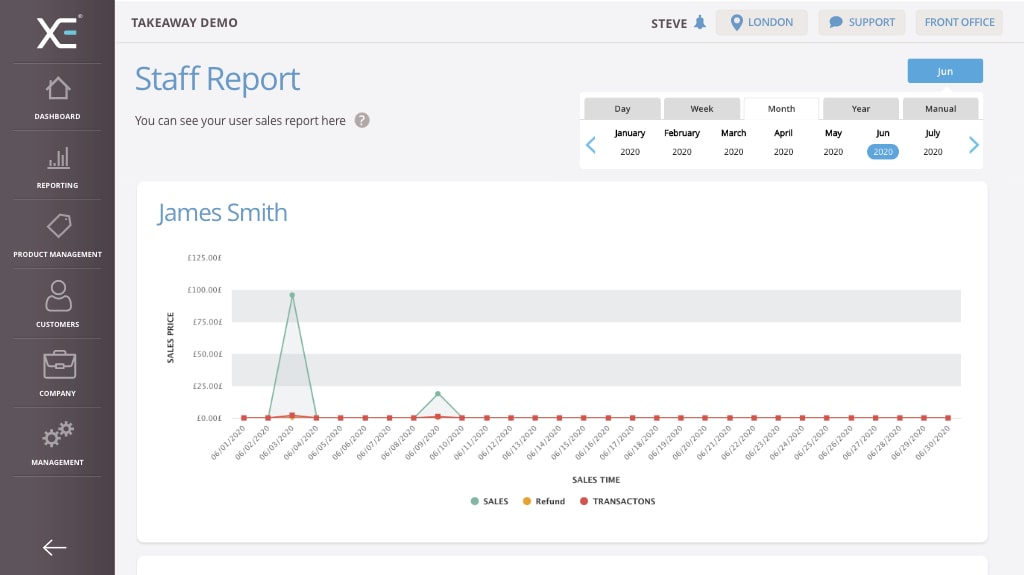 Staff Performance Report
The performance of each individual employee can be tracked within the system, allowing you to see their performance in numbers and charts. Analyzing such data can help you realize where their weak points are, enabling you to help them improve these areas.
Staff Profitability
Check out your staff profitability to know which of them should be rewarded by the end of the month and who your staff-of-the-month will be.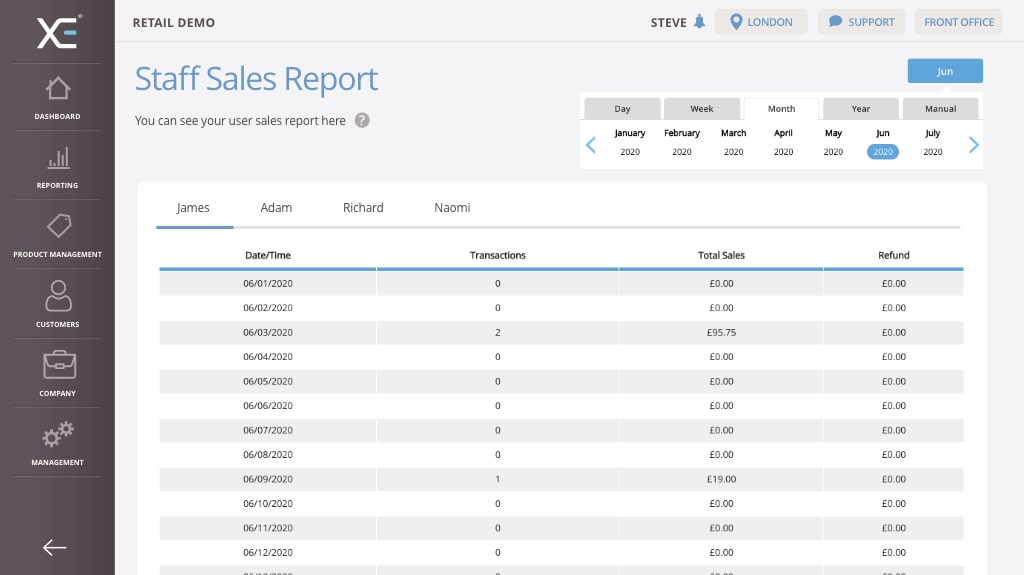 Avoid Misuse and Shrinkage
Nothing goes to waste when you can constantly monitor transactions, orders and staff performance.
Cloud-Based Management
Get full access to all your data whenever you want to manage your inventory and get detailed sales reports as well as staff reports, etc.
Cut the Waiting Lines
Accept payments in a flash and provide a flawless experience for the customers. This seamless process makes you the store they choose for their next purchase.
Creating and Managing Locations
Sell Online
Building an online website and selling your items is just a matter of minutes. Easily choose your preferred template and import your products. Then all that's left for you to do is to prepare the orders for the customers. 
Ecommerce Platform Integration
XEPOS can be integrated with different e-commerce platforms such as Shopify to help create a unified and smooth experience even for new e-commerce users.
Real-Time Management
Handling all your locations as well as your online store might seem like a hard task, but using our epos system will make you a professional at juggling multiple tasks, someone who can handle the business with ease and have everything under control all at the same time. Showing the stock level in real-time can help you monitor your inventory, making sure about the right time for the next order and always having your most popular products ready on the shelves.
Already have an e-commerce store?
Connect your old e-commerce store to the new epos system without losing your data!
XE Touch Screen
Designed with the user's comfort in mind, our touch screen works seamlessly with all the other parts of the system to ensure a smooth experience throughout the whole process.
Cash Drawer
A beautifully designed cash drawer with 8 coin slots and 4 note slots, perfect if the customer chooses to pay with cash.
Receipt Printer
A thermal receipt printer is there to print out the receipts with your customized information and chosen size.
USB Handheld Scanner
All retailers know how hard it is to add items to the customer's shopping cart. Having the XEPOS epos system can help you overcome this problem by simply scanning the product's barcode and finding it in the inventory.
Email
Drop us an email and our support team will respond to your questions ASAP.
Live Chat
Chat with an expert and find the answer to all your questions!
Free Demo and Staff Training
Every device has its own tricks that can provide quicker results and ease of usage. That's why we show you all those tips and tricks in a free demo session and train your staff to make sure you are able to get the most out of your epos system.
Brand New 17" Touchscreen Monitor Upgrade
Having a bigger touchscreen monitor means having a comfier experience while using the system in a large environment.
Brand New All in One Upgrade
Save space and keep everything in an integrated environment by using our stylish all-in-one system.
7" and 10" Tablets
Ease the order-taking process for your staff and submit orders on the spot. Using a 7-inch or 10-inch tablet will speed up doing business greatly.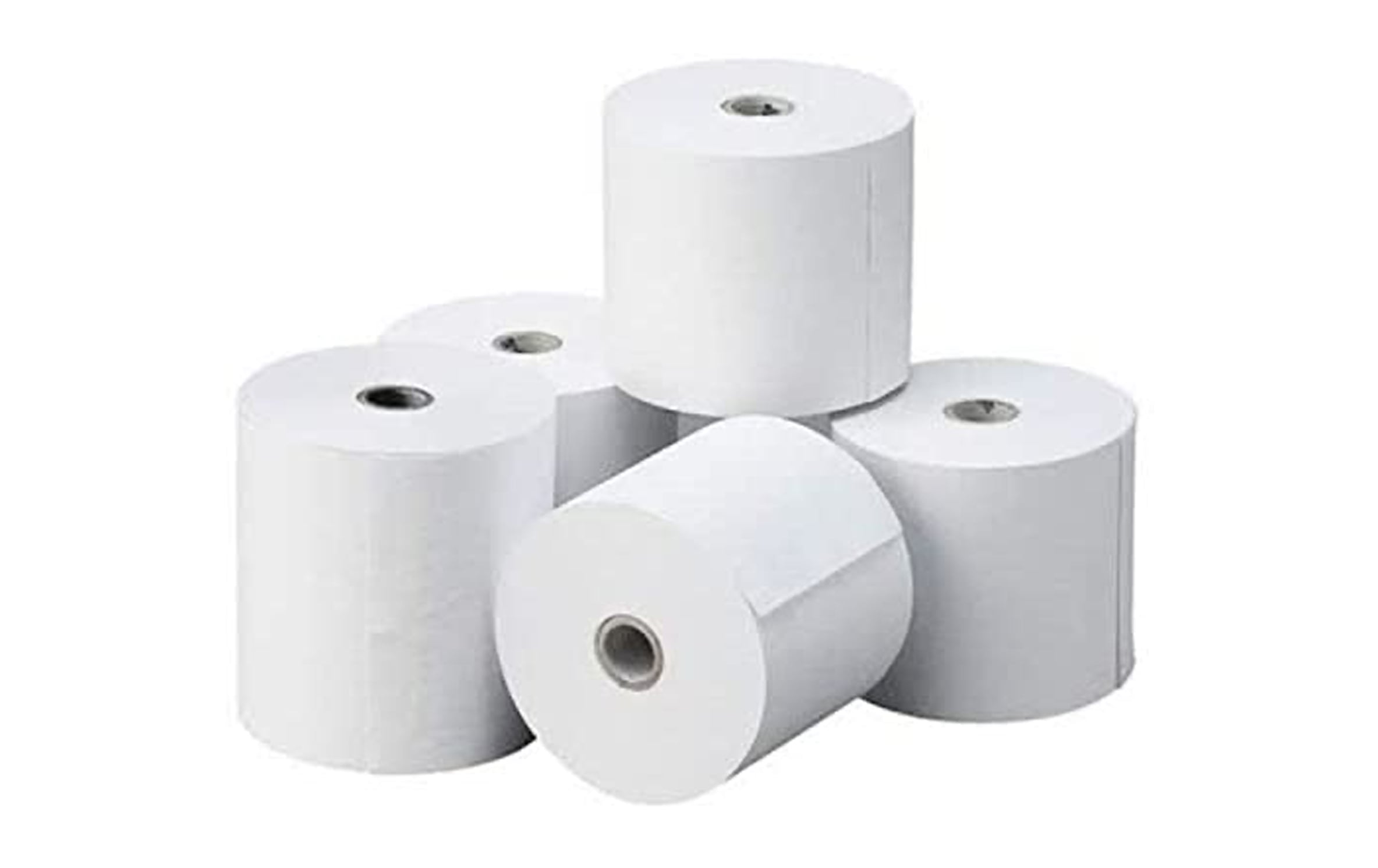 80mm Receipt Printer Upgrade
Increase your printer size to print out on larger rolls and contain more information on receipts!
20x 58mm and 20x 80mm Receipt Printer Rolls
Till rolls are the food for your printers! So make sure to get the right size for your receipt printer.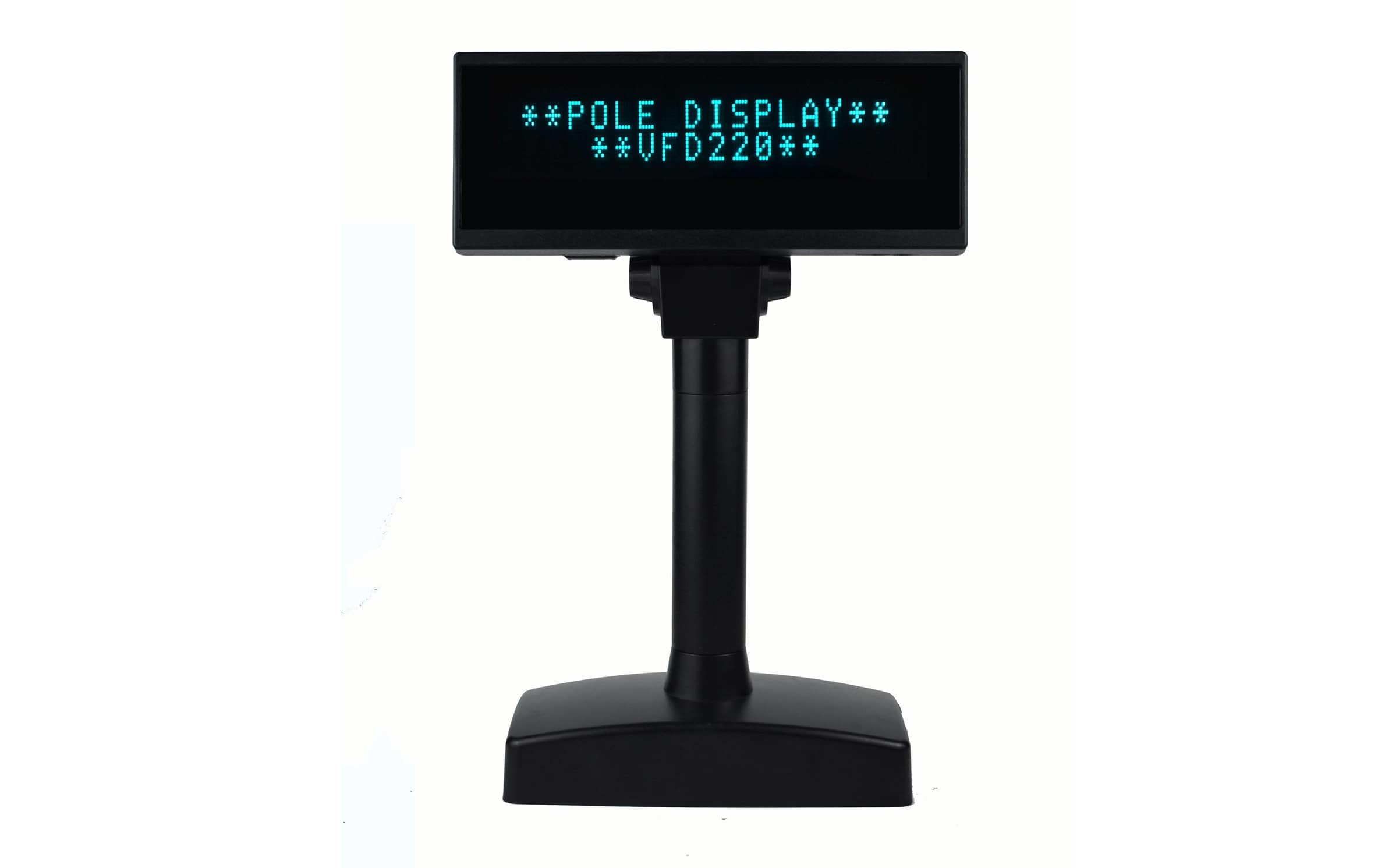 External Customer Display
Gain customers' trust with our well-designed customer display, showing welcome messages and total prices on the screen.
Side-Opening or Flip-Top Cash Drawer
Keep your money safe in our secure cash drawers specially designed for retail businesses like yours.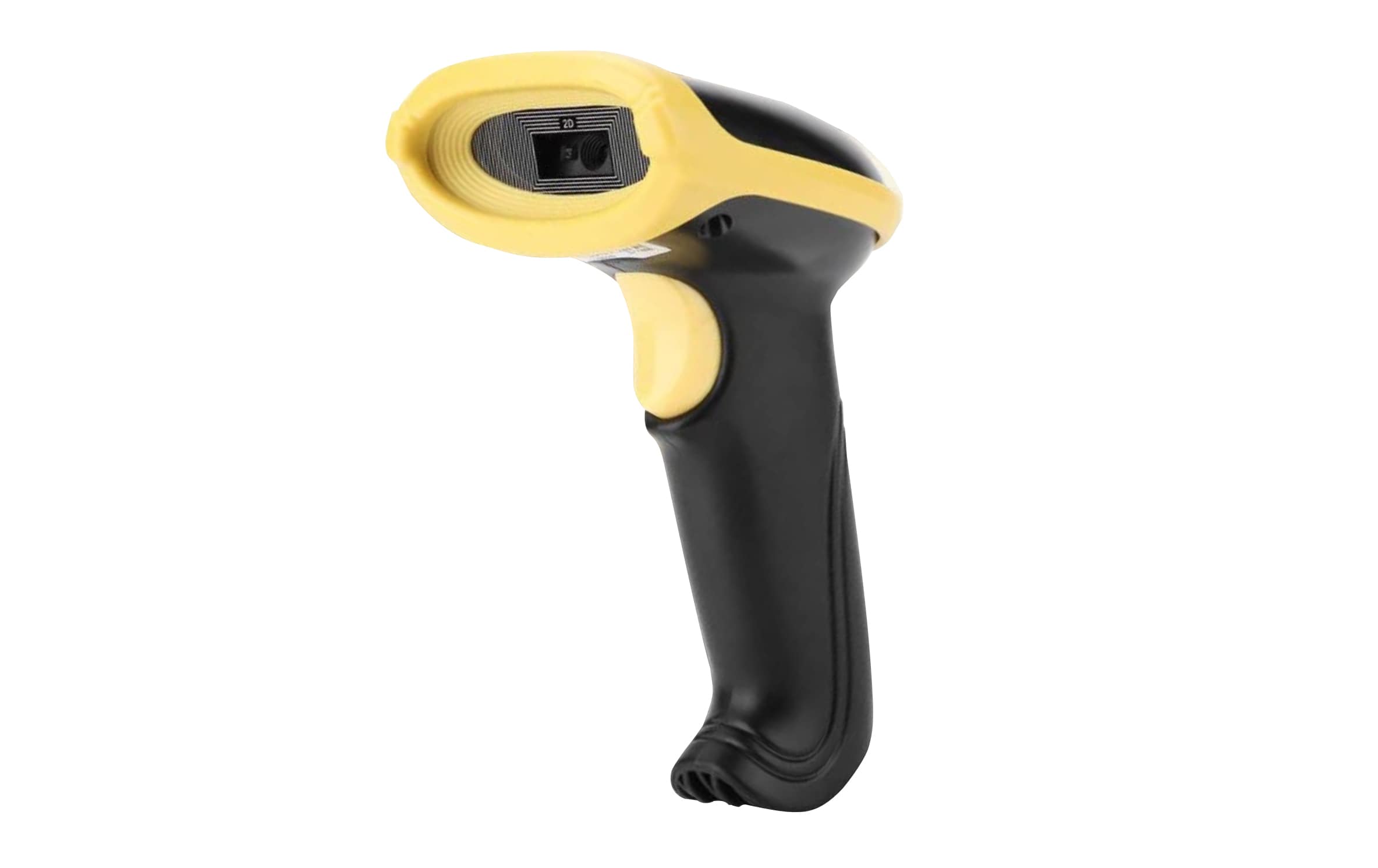 Table Mounted or Wireless Barcode Scanner
Barcode scanners are retailers' buddies helping them not only organize their stock with better discipline, but also add the products from their customer's shopping cart to their purchase list. That's why we have designed both a table-mounted barcode scanner and a wireless version to help create a smoother shopping experience.
2000x Barcode / Shelf Edge Label Pack
Customize your products with specific barcodes and special shelf edge label packs, this can help assist both yourself and your customers to easily find the desired item.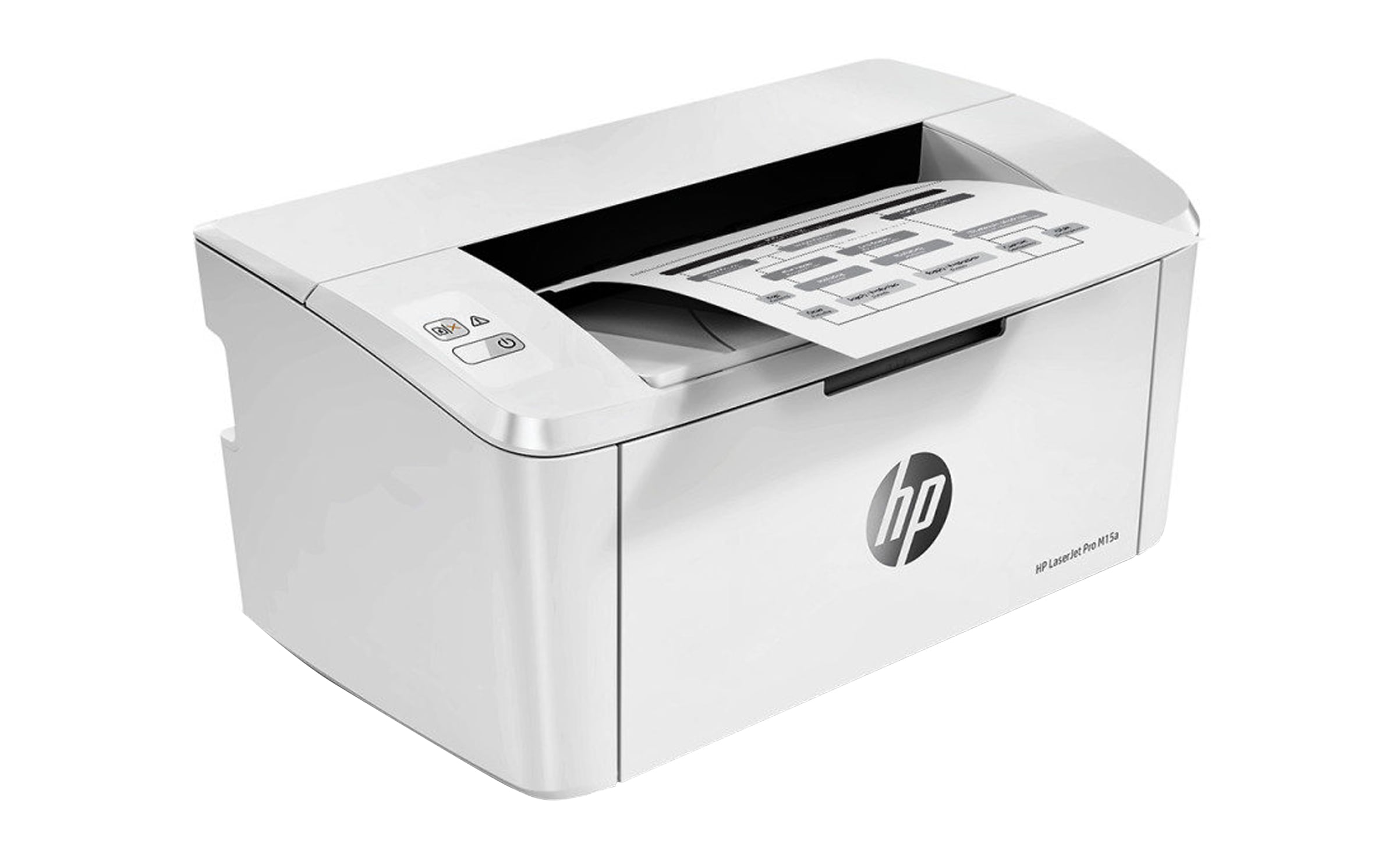 Barcode / Label A4 Printer
Print out barcodes and necessary details on labels to better organize your inventory and products on the shelves.
Keyboard and Mouse
Prefer to work with your system the old way? Get yourself a keyboard and a mouse which works seamlessly alongside your epos system.
Try XEPOS Risk Free!!
We have spent the last 6 years working with other businesses in your sector. We understand every painpoint,
that's why we have created the perfect epos system specificaly for your business, with every feature you will ever need.
Contact Sales